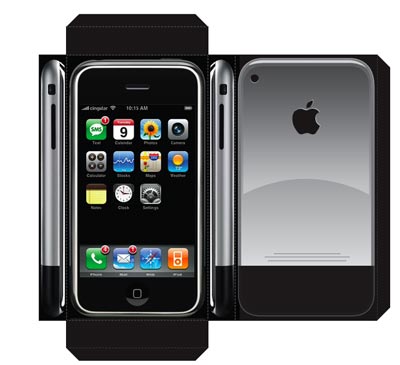 Just print, cut, and fold.
I wonder if I can fit my Treo inside?
It also sets me to wondering how many of its features will appear on the 6th gen iPod:
Multi-touch widescreed is to be assumed.


As is the automatically re-orienting, light adjusting screen?


Will the proximity detector shut off the screen when you put it in your pocket? How about when you put it in an iSkin?


120 gig capacity is a pretty safe bet (HD manufacturer is already leaking rumors).


Will the accelerometer lock down the harddrive while exercising?


Will it feature the "Home" button and multi-app, customizable desktop?


Will it run OSX? Widgets? office apps? eBooks (iBooks)?


How much HD capacity will the OS take up?


Bluetooth is a given (along with bluetooth headphones, remote, etc.), but will it also have wi-fi?


If so, will it run Safari? Check email (push or otherwise)? iChat or other messaging? YouTube?


Will it allow sharing songs/photos like the Zune? (the iPhone does not)


Will it sync wirelessly with iTunes? Airport? appleTV? (the iPhone does not)


Will it access the iTunes Store and allow for instant purchases downloaded directly to the iPod? (the iPhone does not)


How many unsupported features will they add by firmware/software updates before making everyone buy a new iPod?


Will it have a camera?


Will it squeeze all that into a casing that's less than 4.1 x 2.4 x 0.5 inches?


Will it have the aluminum/polymer casing like the nano/shuffle/iPhone? (it would have to if it supports wireless features)


Will you be able to disable that stupid "cover flow"?


Will its new version of iTunes support dvd ripping? divx?


Will the next nano be multi-touch and bluetooth? Will the shuffle get bluetooth?


Will it drive your car? Fly a plane? Walk your dog? Make you breakfast?
Do I ask for too much?